SDCC:
San Diego Comic Con is going on right now! As I type this people in San Diego are having so much fun getting to see exclusive trailers, figures that will be coming out, statues, comics, artists, actors, panels, and so much more that I just don't know about. I want to talk about all the stuff that's happening there but I really can't say much because I'm not there nor have I ever been to one. I'm working on going to it next year but from all the information I've been told getting a badge for the SDCC is a lot of work that has a very high chance of not paying off.

Which for now, as it has been in the past years for me, I just got to look online for any and all information coming out of the con that I can find. This year is a little easier because got the Twitter feed #SDCC with people posting all sorts of updates including pictures and videos. Even the celebrities are in on the fun, which is one of the cool things about these cons is that most of the celebrity guests have fun like us fanboys as well. Just take a look at the photo poster by the Community cast with their post of this by Alison Brie…
"Bus time!! RT @GillianJacobs: On our way! ‪#SDCC‬ @joelmchale @alisonbrie @yvettenbrown @dannypudi pic.twitter.com/TwJXXDtC"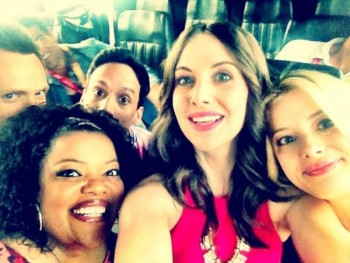 And here's a follow up from Joel McHale @joelmchale giving us his point of view.
"About to go on stage! at #SDCC #POPPOPCOMICCON http://lockerz.com/s/224675941"

I could sit here all day posting all the different photos being posted from SDCC and still not get them all on here. But I will try my best to give the news that I've found out about so far but got to remember today is the second day of the con, they still have Saturday and Sunday so lots more for them to say and do there.

First bit of news is that Neil Gaiman will be returning to write The Sandman, a title that he started some 25 years ago. He will write a as yet to be released limited series title for The Sandman that focuses on a story that he wanted to tell but was never told.
Marvel has been posting all sorts of photos on the figures coming out. Here are a few links to their posts.
i.marvelousnews.com/g/index.php
i.marvelousnews.com/g/index.php
And one of my favorites so far cause it finally shows the Phase One of the Avengers Blu Ray edition collectors set.
marvelousnews.com/index.php
CHARACTER OF THE WEEK 28:
San Diego Comic Con
Ok, even though I haven't been to it I got to still make it the character of the week. Lets face it, even if you haven't been there that don't mean people don't know about it. Even if you don't like comics you might know about or even been too it. That's one of the great offerings of the con is that it features everything from books, comic books, toys, to movies, television shows, video games, and more. There's everything for everyone to enjoy and best yet it does offer exclusive merchandise and news that's not given, sold, or told anywhere else. Which thankfully for the internet when before the SDCC showed an exclusive trailer of a movie that won't be shown anywhere else there are people with cell phones recording it to post online for the poor slobs like myself who couldn't make it there and with the improvement of smart phones and their cameras I expect some good videos. Along with all that there's also the huge celebrity appearances coming to do signings and/or panels. Now I've been to some panels that feature the cast of some popular shows but as big as I thought those where I'm told that the ones at SDCC make the ones I went to look like it's some basement get together. So with all that the con offers, it does, gives, and everything, it's this weeks character of the week.