NYCC UNDERWAY:
The New York Comic Con is underway right now in New York where there is all sorts of news being told. It would be great if I could be there doing some reporting to bring updates with what publishers are planning but sadly I have to find the info by looking for it. Right now it's only on day 2 but there's just so much coming out of it that I can't list it all in detail. For now I will give a brief amount of info from that I've found out so far.
Batman will be getting a new title called Batman: Eternal. What's big about this? Other than yet another Bat title is that it will be a weekely title. It will also see the return of Stephanie Brown with issue #3. If you don't know who she is, she was first Spoiler, then Robin, and before the New 52 she was Batgirl. Also in the Batman titles the Riddler will be getting on Batmans nerves and there's some talk about some hostility between Bruce Wayne and Jim Gordon.
There's going to be a G.I. Joe/Transformers ongoing title that will have the two teams helping out each other. The Joes will have to deal with threats from Cybertron as the Transformers deal with Earth threats but it will take the two helping each other to survive. But if this is one you want to read you will have to wait until next Summer before you can get your hands on it, though there have already been books of these teams teaming up so go to the local comic shop to find them.
Not sure how I feel about this but Johnny Blaze a.k.a. Ghost Rider, the original one, will be joining the Thunderbolts in 2014 with issue #20.NOW, that's right I made no typeo, that's a 20.NOW. Or according to what I am seeing the .NOW issues will be new #.1 or new #1's coming out under the tag line of "All-New Marvel NOW!".
Also part of the "All-New Marvel NOW!" will be a ton of Avengers titles. One of the new titles coming out will be called Avengeres World by Jonathan Hickman and Nick Spencer. The world, all of it, will now be protected by the Avengers. Call me crazy but I thought they already did that.
The tease that said "Atonement" was for the upcoming Black Widow solo title by Phil Noto and Nathan Edmundson. Not sure what it will focus on but being that it's a Black Widow solo I'm guessing it will have a lot of spy and government story lines.
Also getting a solo title will be Loki. His title will be called Loki: Agent of Asgard. Ok, not that good of a title in my opinion but I'm none the less excited about having a new Loki book to read. I've always liked the character, maybe it's all the green he wears, but I'm hoping they bring back the evil Loki.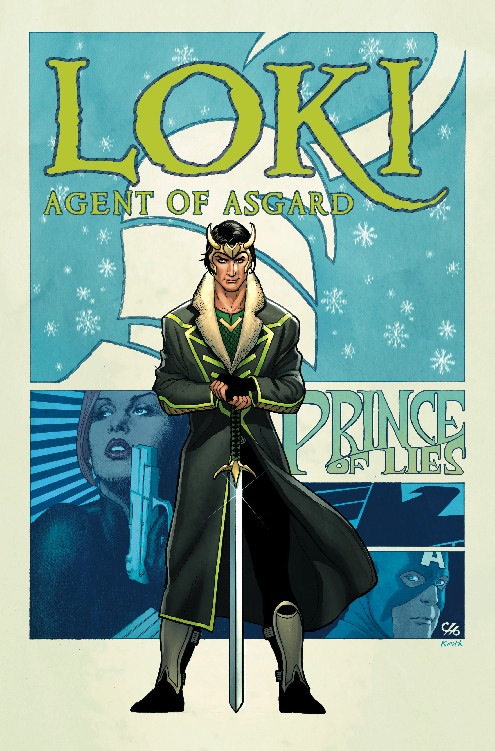 Keep looking this weekend for more and more information to be released from NYCC. It has 2 more days left and some of the panels still haven't happened yet, like the Superior Spider-Man panel is on Sunday where of course there will be talk about Spider-Ock but there was also mention of Captain Marvel talk in that panel. What does she have to play in the Spider-Man world and why is Spider-Man on the cover of the Avengers World? Don't know but by Monday I will.