It's Comic-Con week and Tributes, we've got lots of goodies in store! First, a slew of new posters were released to celebrate and promote Panem's 75th Hunger Games & third Quarter Quell
These first two posters introduce the newest victors and carries quite an announcement:
Citizens of Panem: Every quarter century, The Capitol honors the anniversary of its victory over the Districts with a special edition of the Games. This year—for the first time in history—your favorite victors will return as tributes. As usual, all residents are required by Capitol law to watch the Games. Insubordination will not be tolerated.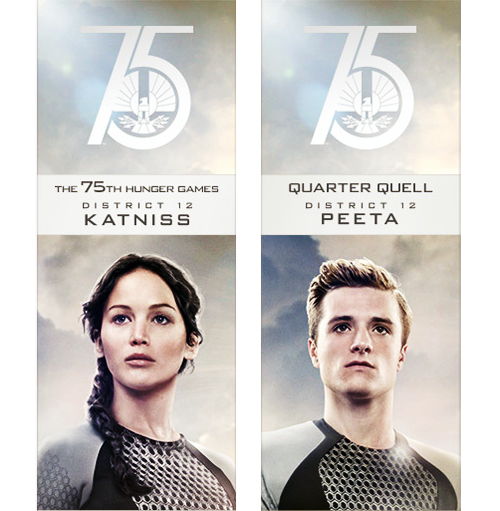 Oh, that Capitol! Always with the fuzzy feelings.
This week, we also got a look at the new tributes. I love how they show off Enobaria's teeth!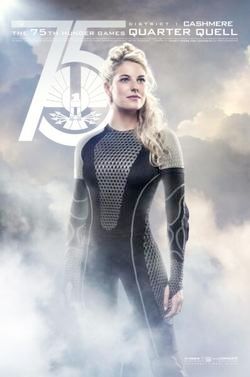 Capitol Couture also released several gifs of Capitol fashion from the new trailer that will debut this week! A couple seem to be from the Victory Tour with Effie pushing Peeta onto the stage.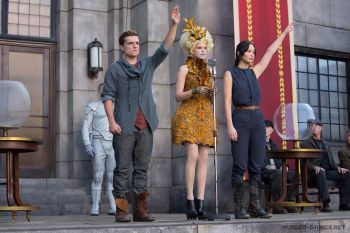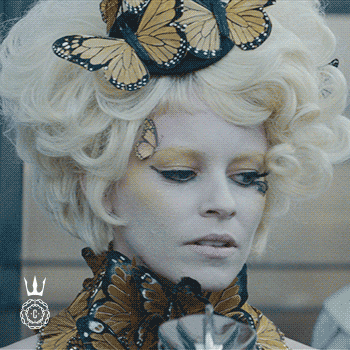 Lionsgate has it's own Catching Fire booth at Comic-Con. Check out the decor as well as the new Mockingjay pin and t-shirts released this week. (X)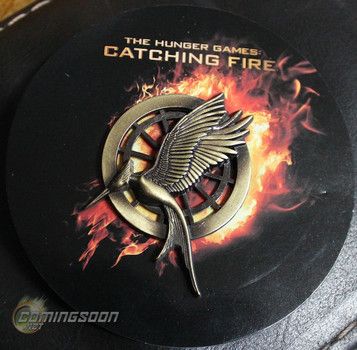 Want to join the Comic-Con fun and couldn't get a ticket? Don't worry! MTV is live streaming The Hunger Games: Catching Fire panel. The CF panel starts on Saturday and will include a brand new trailer!
The Catching Fire panel will include Jennifer Lawrence, Josh Hutcherson and Liam Hemsworth among other cast members.
The live stream can be seen over here. (x)
And if that's not enough, there's a new contest for Tributes to show their knowledge and win some prizes!
The Hunger Games Explorer site has launched a new competition for fans to participate in. Through the use of your social networking accounts you can earn badges and sparks to win some really cool prizes.
Rack up the Sparks!
Earn 10,000 sparks by 8/31 and you will be eligible to win one of 75 exclusive NEW Mockingjay Pins! Continue liking, sharing and creating to earn sparks.
District Mandate from the Capitol: #CelebrateYourVictors
Tweet to #CelebrateYourVictors and earn a Quarter Quell badge. The Capitol will reward the most vigilant district citizens with a Limited Edition #QuarterQuell poster.
Expires: Thursday, August 1, 12:00am PDT (X)
Click on over to  The Hunger Games Explorer to join in the fun & claim your prizes!
See you next week, Tributes!